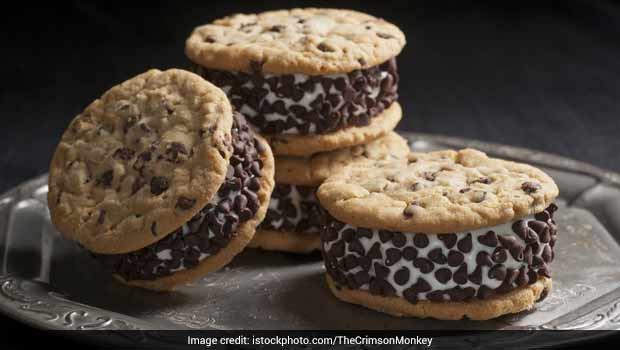 There is no age bar to relish an ice cream. Our childhood would be simply incomplete without these cool delicious treats. Today, we have ample varieties in the world of ice cream but classics are irreplaceable. Ice cream sandwiches are one such most-loved version. It is always fun to go back to the basics to prepare the treats in our own style. Do you remember the taste of flavoury cold sandwiches? Well, you can now make it at home. Chef Saransh Goila recently shared on Instagram an easy to prepare ice cream sandwich with regular biscuits.
The ingredients required to make this mouth-watering sandwich are biscuits, mixed berry jam, a slab of ice-cream, some melted chocolate, coconut oil and roasted cashews.
Here's how to make the scrumptious ice creamsandwich:
Apply a layer of mixed berry jam to the biscuits.
Cut a piece from the ice cream slab to sandwich it between these biscuits.
Prepare more of them and freeze them for 10 minutes.
Dunk them in the mixture of 1 cup melted chocolate and ¼ cup of coconut oil.
Roll it over a spread of roasted cashews and enjoy your ice cream sandwich!
Watch the video here:
Saransh Goila recently also shared a healthy alternative for Nutella spread. The heavenly chocolate spread is filled with nutrition. Saransh, who cheekily termed it as "Sau-tella" has an easy recipe for all of us. This creamy topping is prepared with dates, peanut butter, cocoa, salt and water. You can make it a healthy snack by applying it on brown bread slices instead of white ones.
One more fun recipe that the chef has in the store is of eggless zucchini brownies. They are made with the goodness of quinoa flour, ragi flour, almond milk and a lot of tasty dark chocolate.
Recently, a Reddit user shared a hack to make a quick and delicious ice cream sandwich at home. The user posted a collage of pictures on a Reddit page called 'Food Hacks', and showed the easy and smart way to create the sandwich. He asked his followers to use their favourite cookies to make the sandwich. Read more about it here.
There is nothing called "too much chocolate" when it gets a healthy makeover. When are you surprising your close ones with your own version of homemade ice cream sandwiches?